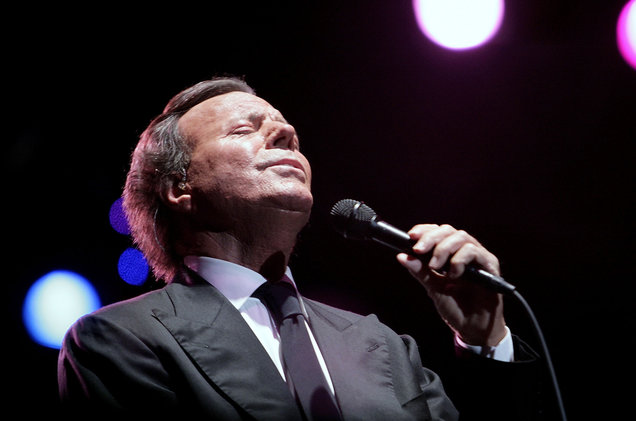 With the release of México & Amigos [Mexico & Friends], Julio Iglesias pays homage to the writers who influenced him and helped him become the best-selling Spanish-language artist of all time. In this duets album, he sings for the first time with Joaquín Sabina and Diego Torres.
Julio Iglesias is happy and in a wonderful mood. Talking to him is like diving into an ocean of experience and stories from one of the witnesses of the most disruptive changes ever to shake the entertainment industry. Today, his greatest treasures are family life and the public's adoration. With more than 300 million records sold, he enjoys the popularity of a legend.
Here, Iglesias talks to Billboard Argentina about his latest album and what's most important to him in life as he ages:
After your first album dedicated to Mexico, you decided to add some friends and artists of all types. I imagine you're happy with the result.
I'm happy because people I really care about participated. Very important, generous people, who have given so much. We've done an album of duets about Mexican music that became an immediate classic since it had Plácido Domingo, Joaquín Sabina, Pablo Alborán or Thalía singing historical music from the '50s and the '60s. I like the record also because people are enjoying it and because it did well in Spain. I imagine that Latin people like to remember the songs that their fathers and grandfathers used to sing.
Rather than including new sounds, you've turned to something more classic, with orchestras and your voice affected with reverb. Were you tempted to take a different road?
I'll tell you a few little stories that are good for people like you, whose specialty is music. I spent a lot of time with Frank Sinatra, because Eliot Weisman was his manager and he very generously decided to introduce us. We sang together in many concerts, did duets, and knew him very well. In those days, I remember he tried to do an album with Quincy Jones, L.A. Is My Lady (1984), which is not that good, because it was not his type. Quincy had just produced Michael Jackson, who was very much in vogue and was a genius. Thus, Frank decided to do an album with him, but he didn't quite get to where he wanted.
Therefore, what I try and do is not change the assonances in music or on my life. That's how I did Tango (1996), without the accordion or the piano, which the Argentinean people naturally have. I did tango in my own fashion, and it is a record that sold 14 million copies around the world. It was historical.
With this last one, we didn't measure sales because they are not what they used to be, but it will remain forever. It's been almost 10 years since I last had a record in the top 5 for two months. That is important for me.
According to statistics, you are one of the most successful artists of all time: over 300 million albums sold. Is there any recognition you still haven't received? Is there anything you'd wish would happen to you?
Remember, I'm vulnerable. Sometimes I'm nice, other times I am not. Right now, I don't do anything I can't physically do. Before, I'd do the impossible, now I do only what is possible. I lack the strength to do the former. My magnum opus is having been able to raise my family as a musician and that my children have music as a priority in their soul. I want my breath to be long, that my lungs have sufficient capacity to let the air out and that people never forget me.
http://thewayitwasinc.com/wp-content/uploads/2017/09/julio-iglesias-live-2008-billboard-1548.jpg
421
636
supanic
http://thewayitwasinc.com/wp-content/uploads/2017/09/logo-1.png
supanic
2017-09-25 12:43:27
2017-09-25 19:53:39
Julio Iglesias On How Duets Album Became 'Immediate Classic': Interview