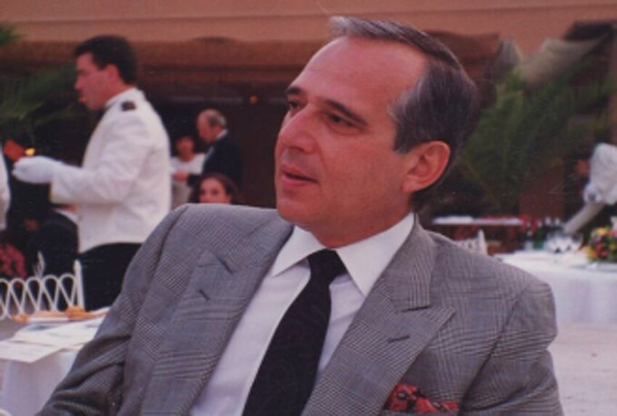 There are many common items people travel with. A briefcase, phone, book, maybe some lucky socks.
How about a golden Uzi?
Eliot Weisman released a new biography,The Way It Was: My Life With Frank Sinatra. In it he reveals Sinatra's travel companion was his golden Uzi.
Sinatra received the unusual present from Israeli Prime Minister Golda Meir.
Weisam, who was Sinatra's most trusted confidant between 1975 and the singer's death in 1998, told Page Six how the Uzi almost got the group into trouble.
Weisam said a group was on Sinatra's private plane heading to Verona, Italy. Before leaving, a customs agent boarded and ask Sinatra if he had anything to declare.
Sinatra said no, knowing his Uzi was on the plane floor.
Weisam explained how the next couple of minutes were tense. Sinatra and his entourage worried about the Uzi being found by the agent.
But instead, the agent did nothing more than take a photo with the famed singer and left the plane.
This wasn't Sinatra's only gun. He once received a gold- and silver-decorated pistol after performing at an event in Havana, Cuba.
Sinatra was no stranger to guns, since he was known to associate with people allegedly connected to organized crime.
Weisam revealed more information about Sinatra's past, including a claim the singer was "smitten" over Jackie Onassis.
Onassis, former first lady and widow of President John F. Kennedy, was escorted by Weisam to meet Sinatra at a club.
The former Mrs. John F. Kennedy's presence had a visible influence on Sinatra's behavior, Weisam wrote.
"There were eight or 10 of us, and only one other woman besides Jackie O. Everyone was on guard and . . . on their best behavior," he wrote. "Unlike our usual raucous dinners, no one spoke loudly and there was not a curse word . . . Of all the dinners I would come to have with Sinatra, this was the most boring."
What do you think? Scroll down to comment below.
http://thewayitwasinc.com/wp-content/uploads/2017/09/image-1.png
416
617
supanic
http://thewayitwasinc.com/wp-content/uploads/2017/09/logo-1.png
supanic
2017-09-25 12:57:35
2017-09-25 12:57:35
New Book Reveals The 1 Surprising Item Frank Sinatra Always Traveled With